ADA compliance or Section 508 requirements are the government standards that we must follow for the Americans With Disabilities act as it pertains to the CSN.edu web presence. This is a requirement from NSHE, General Counsel's office and the Web Working Group. Part of these requirements are that all electronic documentation i.e. PDFs must meet accessibility compliance before we can post to the CSN web sites. An example is a person who may have some kind of visual impairment, the PDF must be able to be read by an automated screen reader. This is just one example.
Below are some links to instructional information that will help you ADA requirements and what you need to do to make your document/PDF compliant.
The links will show you how to make documents or PDFs accessible. Note: it is best to make sure the original document is corrected rather than the PDF. If you need to make any changes/edits, doing so in the original document will save you from having to redo all of the "fixes" that were done in the PDF.
Converting Office Files
Scanning to PDF
Correcting OCR Errors with Adobe Acrobat Pro
In the Tools panel, under "Recognize Text", click on "Find First Suspect"
Acrobat will now go through and identify any word conversion it is unsure of and allow you to manually correct them.
The pop-up window shows you the picture of the suspected word.  The text on the page shows you Acrobat's interpretation of the suspected word. To fix spelling, click on the word in the page, enter the correct text, and then click Accept and Find to move to the next suspect.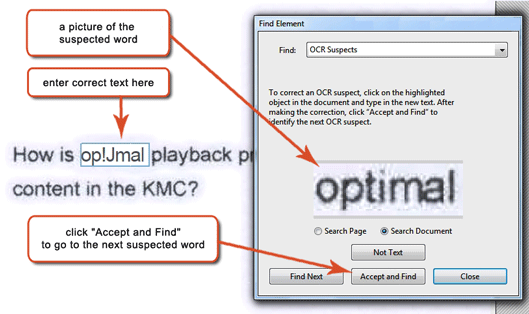 Proof reading in Acrobat
To save as a PDF, go to File > Save.  For other file types, go to File > Save As and choose from Word, HTML, plain text, and others.
Using Acrobat Pro
The Make Accessible action ensures that the PDFs you create in Adobe Acrobat Pro are accessible by meeting WCAG 2.0 and PDF/UA standards.
Accessibility Checkers for Adobe Acrobat
Adobe Acrobat Pro
Acrobat Reader
Note: In Adobe Reader, you can use the Read Out Loud feature to see how readers who use the text to speech conversion tool experience it.